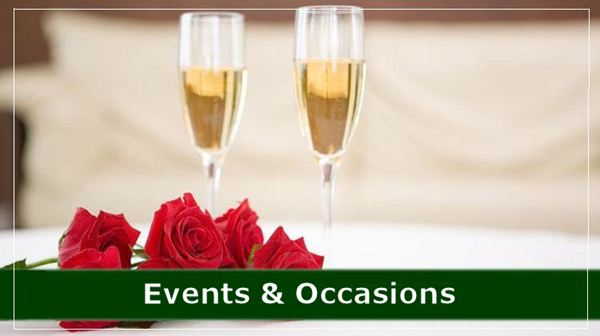 Are you looking for that "special place" to hold your next celebration or special event…?
With a "one of a kind" setting, McHenry Country Club provides an ideal, convenient, and versatile location to host a wide variety of special events such as golf-outings, weddings, receptions, showers, private parties, corporate events, and meetings.
The newly remodeled clubhouse offers a variety of banquet and meeting rooms to fit the needs of groups ranging in size from 10 to 200. Room configurations can be seen under Banquet Facilities.
Extraordinary food and quality service characterize all special events at McHenry Country Club, with attention to detail that only fine dining can offer.
In addition, all of the Banquet Facilities offer Wi-Fi access, conference calling, central sound system, podiums, LCD TVs, projector and projection screens for your use.
Use of the club's facilities are available to non-members for all types of events!
Let our event coordinator customize one of the many Banquet and Wedding Packages to make your special occasion a truly memorable event. Contact our event staff at 815.385.1072 or click-here to fill out an informational request.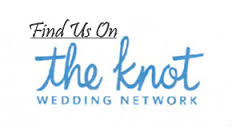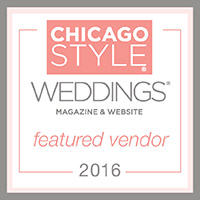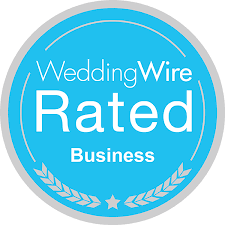 Testimonials
I am a wedding planner, and as someone who works with tons of venues throughout Chicagoland, you will NEVER come across someone as amazing as Tracy at MCC. My best friend got married there and wanted a beautiful garland piece down the head table. Expensive, we settled on fake eucalyptus. Tracy took it into her own hands to CREATE the garland on her own time just to make the bride the happiest girl in the world – and she so did! This is just one of the millions of things Tracy did over the top for my best friend, and I'm forever grateful she was there to run the show for the biggest day of her life. Thank you staff at MCC and THANK YOU TRACY!
Could not have asked for more! The staff were amazing! From our first meeting to the end of the reception, they catered to our every needs. The food and service were first class! Our guests are still calling us and talking about what an amazing event it was. I don't know what else to say, but if I did it would be nothing but good!
This vendor is awesome, the facility is beautiful, The event planner, is excellent, the food was superb. If you are planning any type of event you should definitely consider them. You will not be disappointed, especially in the food, our guests raved about it. We even had a chef as one of our guests, and he thought the food was excellent
The staff at McHenry Country Club were so flexible with our Unique theme and also respectful of our budget. We had both our ceremony and our reception at the Country Club that could't be done at any other place (being on the water). Not only were we extremely pleased as a newly married couple, our guests have been ranting and raving about the venue and the food since our awesome day last week. As the Wedding Event Manager, Lauren E made us feel at home and did a ton of behind-the-scenes services that were above and beyond our expectations. We could't have asked for a better venue, Serving Staff, and Event Manager-Lauren!! Awesome Job McHenry Country Club!
Our wedding was at McHenry Country Club. The facility was kept up beautifully. They have a brand new pergola outside that they just painted white that we had our ceremony at. The Fox River passes behind and makes for a beautiful background. The food was delicious and the staff was friendly and helpful—overall the service was great! Everyone was extremely helpful with anything we needed. I loved the reception room because 3 of the 4 walls were windows so it was nice and bright. The patio right outside was also wonderful for guests to use as well. It was the best night of my life! Thank you McHenry Country Club!
I am sorry that I have not reviewed sooner. I had my daughter's baby shower at the country club and could not have been more pleased. The staff was marvelous! Everything went very smoothly without a hitch. The food was excellent, as well as the service. I would certainly come back to the McHenry Country Club for my next event. Thank you once again.
I want to thank the entire staff for making my wedding day a success! Everyone had a wonderful time. The food was exceptional– I received so many compliments. Thank you again!
Friendly, Flexible and helpful staff. Beautiful Country Club for outdoor pictures. Delicious food.
Amazing memorial lunch buffet! The room, the bar, the food and the staff were amazing. We estimated 40 people and 57 showed up! Tracy the banquet manager was amazing. She let us sit in the bar which was so comfortable and intimate for small parties and in the room for larger groups. They handled the food so well even though it was 50% more needed. Not one person went without and everyone mentioned how wonderful the food was. Tracy even made a plate for my Mom who needed some help. The server was amazing and made sure everyone had what they needed and the bartender kept up with all the drinks as well. It could not have been any better and I will do all my events at the country club. They exceeded my expectations by over the 50% we threw at them!!! Can't recommend them more, I would give them 10 stars if I could.
I was very impressed with the quality and quickness MCC gave to us throughout the whole wedding process! Everything was beautifully set up and it took away from me having that added stress of getting everything done in time. The staff was absolutely wonderful to work with and helped us along if we had questions and/or concerns and was there for us every step of the way! I can't say enough about the food, also!!! We were complimented all night by our guests on the choices we chose! I would do it all over again at the MCC in a heartbeat!
The staff was extremely attentive and the food was amazing. You can't beat the view from the dining room and the wedding pictures on the course are beautiful.
The McHenry Country Club was a perfect place to have our corporate holiday party. It was beautifully decorated, with a wonderful wait staff, delicious meals and they made it very easy to plan. Thank you!
THE VENUE IS PERFECT AND THE VIEWS ARE SPECTACULAR. ATTENTIVE STAFF, GREAT FOOD AND GREAT PRICES.
The country club did a great job. They made sure that everything went smoothly with the florist, bakery, DJ and photographer. They adjusted the plates for our younger guests. It was a great party.
Dear McHenry Country Club Staff: Thank you all for the support you gave the Ladies' Association and Breast Cancer Rally Committee this past week. All of the management, office staff, wait staff, bartenders and, of course, Chef Angelo, helped to make our event fantastically successful!! We could't have done it without you!!!
I could not have asked for a better venue! They were very accommodating and willing to work with you every step of the way! The wedding coordinator was wonderful! I emailed her hundreds of times and she was always willing to answer my questions, no matter how little the detail. The landscape provided a wonderful backdrop for pictures! I would recommend this venue to anyone!!! They were amazing! We had absolutely no problems the day of the wedding
On behalf of Shaw Media I would like to thank you for being a luncheon sponsor of the first annual Women of Distinction Program. Thank you for going above and beyond to meet our needs for the event. Your staff was proactive and aimed to please.
Everyone was impressed with the efficient service and delicious lunches.
I don't think we properly thanked you for the wonderful job you did for us at Jessie's Wedding. We really appreciate all of your efforts. I know there were lots of things you handled behind the scenes as well as the visible decorating, keeping everything flowing. Thanks!
I wish there were 10 stars – my son's wedding in September was beyond perfect! It is cliché to say that the staff went above and beyond, but THEY DID! Tracy and her staff ensured that the bridal party and families wanted for nothing that night. It was the little things that they oversaw without the slightest hesitation and mostly without us even knowing! From last minute dietary restriction adjustments, to a very well done extract of the bride and groom during dinner to get pictures with the elusive sunset, to ensuring that the wedding décor was tightly grounded in the blasting wind – Tracy made sure that everything was perfect. I can honestly say that this is what you can expect. Friends had their wedding here a month later, and even as guests – we were treated like it was our wedding all over again. The same attention and perfection were given to our friends (and us!) a month later. We look forward to having future events at McHenry Country Club! Thank you Tracy and team. It was a night we will never forget!
Our Facilities
Nestled among one of the longest riverfronts in McHenry County, our event center offers a perfect backdrop for an outdoor wedding or dramatic open-air reception, along with beautiful indoor banquet spaces suitable for any private event.
Main Dining Room
Newly renovated, overlooking the Fox River, the Main Dining Room accommodates up to 250 individuals. With patio access, a private service bar, and portable dance floor, this room is ideal for wedding receptions, or other private party events.
Capacity
200 people
Hours
Flexible for Events, subject to regular Club Dining Schedule as posted.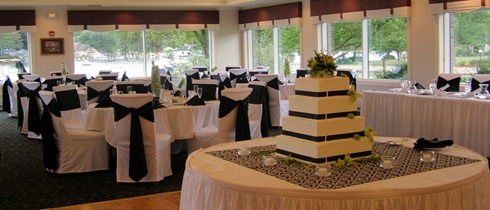 McHenry Room
Perfect for small and intimate functions, the McHenry Room will accommodate up to 30 individuals in a variety of party or business meeting configurations.
Capacity
30
Hours
Flexible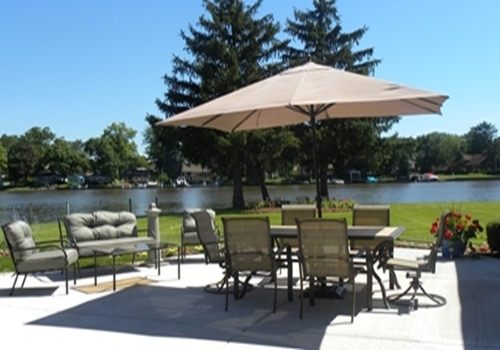 McHenry Grill Room
With a full view of the Fox River, the "River Room" is ideal for small groups up to 75. It is the perfect location for showers, small luncheons, and business meetings.
Capacity
75
Hours
Flexible
McHenry Lounge
The Grill Room offers a full view of the Fox River, and provides access to the outside dining patio. It is the central gathering spot after a round off golf to socialize with friends, or have a casual lunch or dinner.
Capacity
75+
Hours
Normal Dining Hours as posted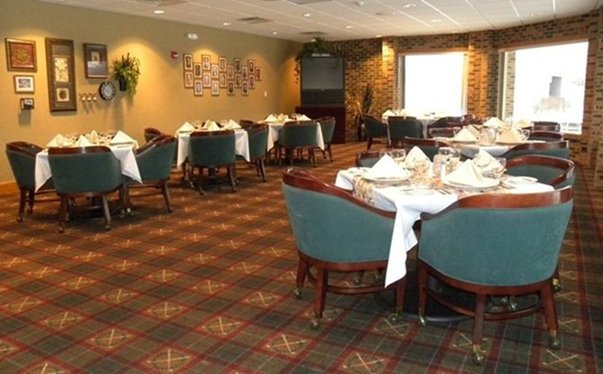 River Patio
New in 2010, the River Patio is ideal for event receptions or "Al Fresco" Dining and offers spectacular views of the Fox River. Depending upon the event, the patio will accommodate 40 – 75 guests comfortably.
Capacity
40 – 75
Hours
Flexible, depending upon club hours and member utilization.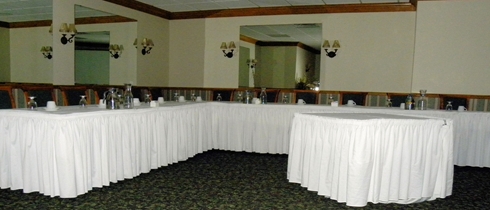 The Banquet Room & Riverfront
The Banquet Room is styled is an open, bright space surrounded by windows offering Fox River views. Decorated in clean, neutral tones and textures, the space will allow you the flexibility to design your event with any color palate or style in mind, whether it be rustic or contemporary. Step beyond French doors and a paver walkway will take you to our private riverfront space, including a dramatic pergola; an ideal setting for an outdoor wedding ceremony or private outdoor event.
Features
200 Seated
Tables and Chairs Included
Stone Fireplace
Private Bar
Private Patio with Gas Firepit
Adirondack Chairs
Pergola
The Clubroom
Our second space, The Club Room, is ideal for smaller events such as corporate parties, baby and bridal showers. Sliding outer doors give you as much or as little privacy as your needs call for. Along with our trademark river views, The Grill Room also has a mounted flat screen TV that can be used for slideshows and presentations.
Features
50 Seated
Tables & Chairs Included
TV Monitors